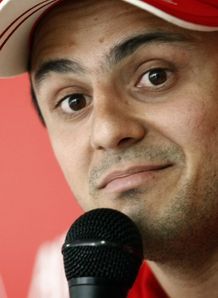 Felipe Massa is relishing the prospect of returning to Formula One after his first Ferrari drive since his life-threatening accident in Hungary.
The Brazilian took a privately owned F2007 for a spin at the Fiorano track near Maranello, Italy in his first drive in an F1 car since July. He is not allowed to drive this year's Ferrari beacause of restrictions on mid-season testing, but already feels close to full fitness.
He told Sky Sports News: "It is a really great feeling to be back in a Ferrari on the track, even if it is not this year's car, it is a great car, very good to drive.
"I was really, really happy straightaway that all the movement, braking, acceleration, the speed, the vibration... everything is working like it was before the accident, nothing diferent.
"I can even go back to everything that happened after my accident. When I started to do exercises for the fitness, in one week I was really almost similar to how I was before the accident.
"I did three days of go-karting before comming here and it was really, really great. The feelings, the vibrations, the movemnets in the go-carts are even stronger than in F1 because you are always on the kerb, you don't have suspension. It is stong movement but nothing happened, even the lap times, consistency.,... everything was normanl."